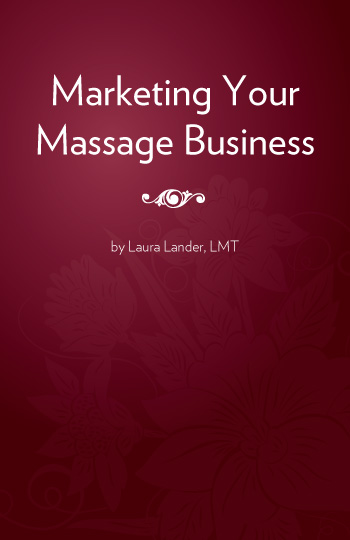 In
Marketing Your Massage Business
Laura Lander has compiled a manual of everything she learned in the business-and-marketing forum that worked well for her in the building of her successful, fulltime private practice in massage therapy.
When Laura graduated from massage school in 1997, she realized that she, like many other newly licensed therapists, had next to no experience in running and marketing a small business. She knew that in order to succeed, she needed to research those subjects over and above what she had learned in school. She invested time, money and effort in taking marketing seminars geared toward small business start-up and participated in various educational networking groups. What new ideas she learned, she tried, and what worked well she tracked and documented.
After sharing her information with two other therapists who approached her for help in getting started, and watching their respective practices grow, she realized that her system had some merit. She also realized that there were many more new therapists in the same situation in which she found herself upon completion of her massage training, therapists who could benefit from this information.
This realization led her to gather her findings into this practical manual for building a private practice in massage or other bodywork, and indeed, any service-oriented industry. Originally self-published in 2004, it is newly revised and now made available as an ebook from
Amazon
,
iBookStore
,
Barnes & Noble
, and
Kobo
.
Purchase
Read a FREE excerpt
Special Bonus For Readers
---
Reviews
Submit a Review
"I wish someone had given me this information in my first or second quarter at massage school."
- reader from Milford, OH
"I love your marketing book, it is a very valuable resource for me- THANK YOU! Now I feel like I can really do this massage thing! You are an inspiration."
- reader from Kenton, KY
"This book has given me a wealth of information, and is a very readable text from which to learn."
- reader from Kettering, OH
"This book is very informative! It has given me enthusiasm about getting started."
- reader from Edgewood, KY
"I love this book! It has been very valuable for me. You did a great job in presenting the information clearly. Thank you!"
- reader from Rising Sun, IN