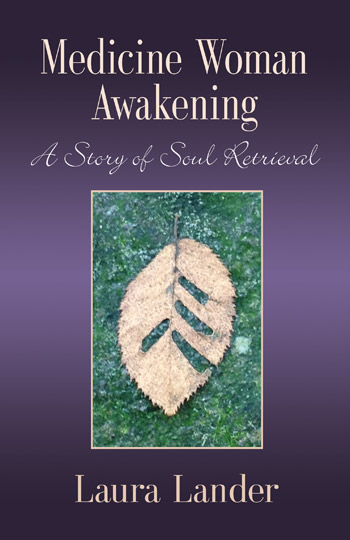 Medicine Woman Awakening
is a memoir that follows the unfolding change in direction of one life's path initiated by an unexpected message from a surprising source and guided by thoughtful awareness of events along the way. As more of her own life essence is returned to her through the shamanic practice of soul retrieval, Laura cultivates the emerging recognition of who she is and what her life more fully lived is to look like.
Purchase
Read a FREE excerpt
---
Reviews
Submit a Review
"Love this book! Very inspiring and beautifully written!"
- C.L., Harpswell, Maine
"I loved following Laura as she shared her journey. While shamanic experiences are very difficult to place into word Laura does a masterful job of it."
- N.M., Key West, FL
"Medicine Woman Awakening is a most appropriate title for Laura's new book. As a former massage client, I experienced through Laura some of her journey. While I was not privy to the steps she was taking at the time, this book now explains what I had witnessed. A woman coming to terms with her internal, even innate power to control herself! Yes! We go through life day by day, hour after hour, just functioning to complete the tasks we were taught or that just became a natural part of us as we grew into our twenties, married, had a family, pursued a career . . . usually with blinders on. Laura's experience of that journey is typical of many women I know, but it is the "awakening" and pursuit of her inner self that makes Laura's book about her life at mid-life that can be an awakening in us all. I recommend this book to those with an open mind to understanding themselves more deeply. Laura shares the intimacies of how she slowed down, restored her energy, started paying attention to the messages directed at her, and purposefully unraveling the story of who she truly is down to her soul."
- S.K., Villa Hills, KY
"I woke up this morning feeling quite ill and decided to distract myself by reading my email. I came across Laura's blog and read it. From there I noticed the news of her book Medicine Woman Awakening and read the excerpt. Next I downloaded the book and started reading. I felt immediately better. It was rather a sudden 'all is well' feeling in my body – I feel that the book itself has healing properties"
- M.K., Florence, KY